226 Views
Top Four Chequing Accounts In Canada
6 min
You want to make payments via the traditional cheque clearance route, or you want to withdraw cash from the ATM. For all your basic banking needs, you will need a chequing account. We cover the four best chequing accounts loaded with features and offers. So, keep reading and choose your best bank account.
The Best 5
Below is a list of the five best chequing accounts in Canada:
1. Scotia Bank–Ultimate Package Chequing Account
Presently, it is one of the best chequing accounts offered in Canada. It provides you with several benefits and serves all your banking needs. Let us now read about some of its best features:
2. BMO Performance Chequing Account
BMO bank offers one of the most recommended chequing accounts in Canada. A performance chequing account offers several advantages and benefits, offered below.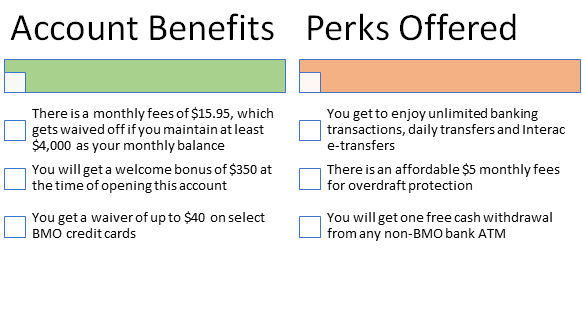 3. Tangerine No-Fee Daily Chequing Account
This account offers you a cashback of up to $400 besides paying you a savings interest rate of 2.75% per annum (for the first five months). Let us explore this account and learn about some of its best features:
4. RBC (Royal Bank of Canada) Day-To-Day Banking Chequing Account
RBC presents the preferred basic chequing accounts. You get this account by paying only a monthly fee of $4. Further, they will waive off this monthly fee (full or partial), if:
You are a senior citizen
You are a beneficiary of an RDSP (Registered Disability Savings Plan)
You have owned two or more eligible RBC products in your region
Further, you get to enjoy the following benefits:
Best Chequing Accounts in Different Categories
There are loads of bank customers, and everybody has a different need. If you are a student, you might need an account with zero monthly fees, and if you are a senior citizen, a high-interest paying account attracts you more.
Thus, we present you with a list of some of the best chequing accounts based on specific categories of customers:
| | | | |
| --- | --- | --- | --- |
| Category | Chequing Account | Major Feature | Monthly Fees |
| Best for Students | Scotia Student Banking Advantage Plan | You will get a cash bonus of $60 upon opening this account | $0 |
| Best for Enjoying Perks | Scotia Basic Plus | You can earn SCENE and Scotia Reward Points | $0, if you maintain a minimum monthly balance of $3,000 Otherwise, it is $11.95 per month |
| Best for Affordability | RBC Day to Day | No minimum balance required | $4 |
| Best for Senior Citizens | BMO Practical Plan | No minimum balance, 12 free transactions | $0 |
Post your comment
Join the discussion...